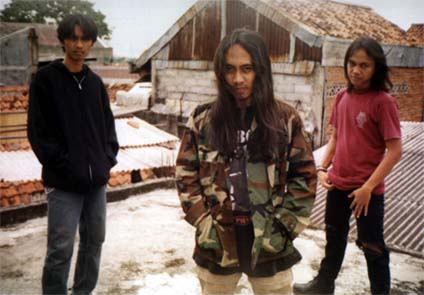 One of Brutal Death Metal group name is IMPIOUS. This group was born first in January 1996 at Jakarta with first formation Bayu on vocals, Ukay on guitars, Irvan on drums, Danny on bass and Yaya Wacked (ex Sucker Head / Grausig) on guitars.
With this formation, for several times they had been making a bombing performance for the underground event at Jakarta with their own songs, Suffocation's songs and Cryptopsy's songs, but because there's leis sense of belonging in the formation, so this group doesn't stand long.The first person who decided to out from IMPIOUS is Danny and it's catch up by Yaya Wacked.
After the transition time until now, the IMPIOUS formation are :
Bayu - vocals
Ukay - guitars
Infan - drums
This three personel has been agreed to recorder the material of the song and make the first album for IMPIOUS in the ERKA Studio and mixing in the RIVAL Studio at Jakarta.
DISCOGRAPHY
"ELEVATION OF THE CROSS" - first EP released in the beginning of February 1998
"DISGUSTING OF HUMAN SOUL" - second EP released in the beginning of October 1999
SOUND
Holy Ghost - (154kb - RA format)
taken from SADIST COMPILATION VOL. I
INFO,/BOOKING, CONTACT
I M P I O U S
C/o Bayu
Jl. Jeruk No. 62B
Bintaro Pasanggrahan
Jakarta Selatan 12320
INDONESIA
Ph: 62-021-7341326
Sound samples uses RA format.
To listen to these sound files, you must need the RA player.

---
Copyright © 2000 Anorexia Orgasm Promotion Media