TYMPANIC MEMBRANE
If your body healths don't get delighted first before you hear the Tympanic Membrane's music, cause all the lyrics are thru' the touch of medical gore and the sound of it will make your body total in pain !!

BIOGRAPHY
TYMPANIC MEMBRANE was born in February 1994 by the rotten of bacterias: Obinx (drum), Redy (bass), Panji (vocal), and Allan (guitar) who united their powers with grindcore of medical music, but in 1995, Obinx (drum) and Redy (bass) were replaced by new rotten bacterias: Dida (drum) and Eko (bass). After joined and showed their performance for some times on the scene in reality, they could overwhelm and exhaust an audience, especially those who live in Bandung now. In the middle of 1995, they released their first demo, called "Pembusukan Keturunan".
In 1996, one of bacterias rotten, Eko (bass), was replaced by bacteria female: Angelick, who is now the youngest bacteria in TM, for she was only 14 years old whe the first time she joined with TM.
With new bacterias, TYMPANIC MEMBRANE made six new compositions and took one composition, called SHAMAN, taken from their first demo to be appeared on their first album, called TYMPANIC MEMBRANE. Then, "Unkin Production", the Indonesian Independent Company released its cassette selftitled. TYMPANIC MEMBRANE bases in Bandung and currently parts of growing UNDERGROUND DEATH METAL scene and it has strong market in the city.
This new album is not smashing its instuments but attacking with their weapons, "sound by the TM" and the sound by "Symphonies of Sickness".
DISCOGRAPHY
1. Pembusukan Keturunan - demo 1995
2. Tympanic Membrane - mc 1996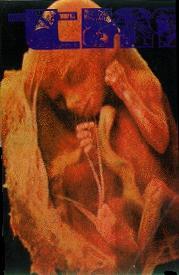 THE NEW MEMBERS OF TM
Dida Rustandi : Drum
Alan Ruslana : Guitar
Panji Maulana : Vocal
Angelick Vaulina : Bass
FOR INFO / MERCHANDISE WRITE TO
Unkind Productions
Jl. Comp. Batu Raden IV. #50, Buah Batu
Bandung 50287 - West Java
INDONESIA

---
Copyright © 2000 Anorexia Orgasm Promotion Media